Oltremare Quartet
-
Andrea Di Biase – Double Bass
Mike Chillingworth – Alto and Soprano Sax
Antonio Zambrini – Piano
Jon Scott – Drums
Stylistically, as suggested by the band name Oltremare (translated: oversea), we play on the differences of our two musical worlds divided by the sea: one is rooted in the melodic and poetic approach of Italian masters like Nino Rota, an inspiring composer who experimented a large variety of genres: from contemporary music to sound tracks for famous film directors such as Federico Fellini and Francis Ford Coppola (The Godfather); the other in the harmonic and rhythmic intuitions of british artists such as Kenny Wheeler and John Taylor.
This idea of building a bridge between two sides of the sea is reflected in the choice of putting aside the refined and understated british drummer Jon Scott and a pianist and composer so deeply Italian as Antonio Zambrini, the unpredictability of Michael Chillingworth's lines and the lyricism of bassist Andrea Di Biase.
This Band has played in the last two years in major Festivals such as the Milan Film Festival (in Milan, Italy), BorgoJazz in Genova (Italy) and several clubs in London such as the Oxford (for the Loop Collective), the Charlie Wright's and Posk.
In 2011 the renowned british label Babel released Oltremare Quartet's first album Uncommon Nonsense, playing original compositions by Andrea Di Biase and Antonio Zambrini.
Read the London Jazz review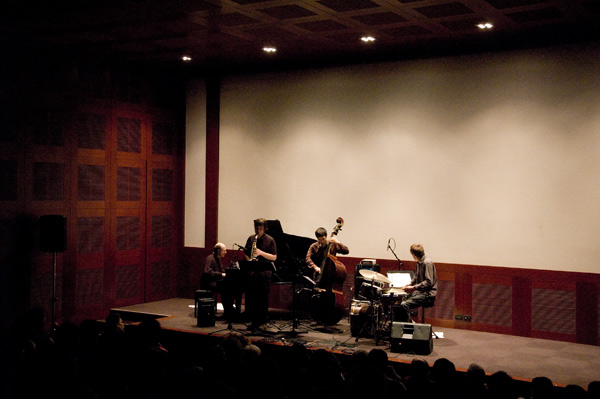 visit the photo gallery at Cineteca Italiana