Projects
Escape Hatch Trio
Escape Hatch Trio is an exciting new project featuring the overwhelming talent and unstoppable musical outpouring of pianist Ivo Neame, the energetic and always unexpected drumming of David Hamblett and the geometrical lyricism of bassist Andrea Di Biase's compositions. Escape Hatch have played twice for the London Jazz Festival 2011 and released their first album Roots of Unity in November 2016.

Oltremare Quartet
As suggested by the band name, we play on the differences of our two musical worlds divided by the sea: one is rooted in the melodic and poetic approach of Nino Rota, the Italian composer who worked closely with the famous film director Federico Fellini; the other in the harmonic intuitions of british jazz outstanding musicians like Kenny Wheeler and John Taylor.
This idea of drawing a line between two sides of the sea is reflected in the choice of combining the refined and understated british drummer Jon Scott and a pianist and composer so deeply Italian as Antonio Zambrini. The line up is completed by young talent Mike Chillingworth on saxes. This band has recently released the album Uncommon Nonsense on the renowned british label Babel.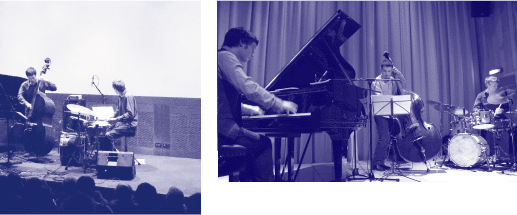 Dialogues Trio
The Dialogues Trio was formed by Bruno Heinen, Andrea Di Biase and Jon Scott during our postgraduate course at Guildhall School of Music in 2005. We aim to explore counterpoint tecniques as well as contrasts of pitch, register, timbre and time. With this approach, we have been working on a set of classical and original compositions which not only allow us to interact fully as a trio, but also stretch the possibilities of the instruments. The Dialogues Trio has released in 2011 their latest album Twinkle Twinkle, featuring as a special guest the outstanding talent of Julian Siegel on saxes and clarinets.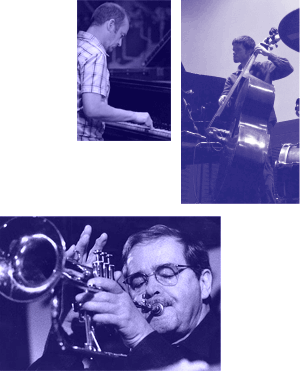 Kenny Wheeler Trio
This new exciting project was born in the fall 2010 when Kenny invited
the creative pianist Liam Noble and the young bass player Andrea Di Biase to
join him in an exploration of his newest and lesser known set of compositions.
They investigate in depth the great expressive potential of Kenny Wheeler's compositional genius, with the constant aim to make the music sound simply nothing else but their own.
The trio is going to perform on the 17/1/2012 at Vortex Jazz Club in London joined for the occasion by the outstanding drummer James Maddren.
Watch a video of one of their concerts.
Listen an excerpt of one of their concerts here.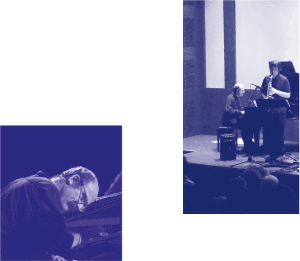 Antonio Zambrini Trio
Antonio Zambrini's Nino Rota Project. A set of arrangements of the less known repertoire of the legendary composer Nino Rota, shaped to open up the improvisative possibilities of the band. The line up is usually trio with Jon Scott or Antonio Fusco on drums.
Listen Antonio on MySpace.
Full biography.